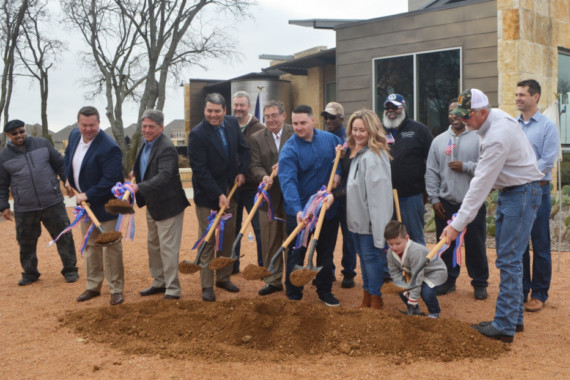 Operation FINALLY HOME along with Plantation Homes, Hillwood Communities and the Dallas Builders Association surprised U.S. Army SPC Daniel Dumas with the news that he and his family will be moving into a custom-built, mortgage-free home in the master-planned community of Union Park in Little Elm, Texas.
A groundbreaking/surprise event was held Jan. 27, drawing  a crowd of around 100 neighbors, supporters and dignitaries. The Dumas family was under the impression they would be meeting with a builder for a preliminary interview to possibly be considered as an OFH candidate. As they were escorted towards the Union Park clubhouse they were intersected by the Patriot Guard Riders, Little Elm PD and Fire Department with flashing lights and sirens. Walking towards the stage, the family began to realize this was no preliminary process and that they had been selected to receive such a generous donation.
Congressman Burgess presented Army SPC Dumas, his wife Melissa and 3-year-old son Luke with a flag flown over the US capitol, stating "Every house needs a flag and now that you're a homeowner I've brought you this from D.C."
Mayor David Hillock welcomed the family to Little Elm and shared the community;s excitement to have the Dumas family move into the area. Union Park is made up of a close group of neighbors who are always welcoming and willing to lend a hand.
On behalf of the Dallas BA, Executive Officer Phil Crone states, "We are thrilled to be a part of another project that gives back to a family who has given so much for all we hold dear as Americans. Our members are able to build the American dream because of SPC Dumas and all our men and women in uniform who preserve and protect our ability to to do so. We are also grateful for Hillwood Communities, Plantation Homes and the Town of Little Elm for ensuring the family will live in an incredible community."
About U.S. Army SPC Daniel Dumas
U.S. Army Specialist Daniel Dumas grew up in Vero Beach, Fla. In 2009, he joined the Army and became a medic because he loved helping people.
His unit deployed a few months later and on the very first day, they were shot at by a heavy machine gun. On the second day, his unit was scheduled for a joint mission with the Afghan National Army where following the meeting, an ANA member opened fire on the group. Dumas was five-feet away from the incident before the ANA shooter was shot and killed. These events have left him with PTSD in addition to a sensitivity to loud noises.
Daniel retired honorably from the Army in 2014. He received many commendations, including the Afghanistan Campaign Medal, Army Achievement Medal, Army Good Conduct Medal, Combat Medical Badge and several other awards.
Daniel continues to suffer from back pain in addition to knee pain and anxiety. He works full time as a claims adjuster for an insurance company, while also attending college full time to complete his degree in Business Administration.
Daniel and his wife, Melissa, are parents to a young son. Melissa is a home health nurse for special needs children. She is completing school to earn her BSN to become an emergency room nurse.